Shade Sails - Lowest

Price & Highest Quality
---
When you purchase Shade Sails for your home, you're getting a top-notch product that will last for years. Not only are Shade Sails durable and long-lasting, but they also offer a variety of benefits. Our Residential Shade Sails beat the heat during the summer by lowering your utility bills, increasing your home value, and providing UV protection from the sun.
Plus, our fabrics are fire resistant and mildew resistant! All of these features make our shades an easy choice for anyone who is looking to save money on utilities or protect their home's exterior.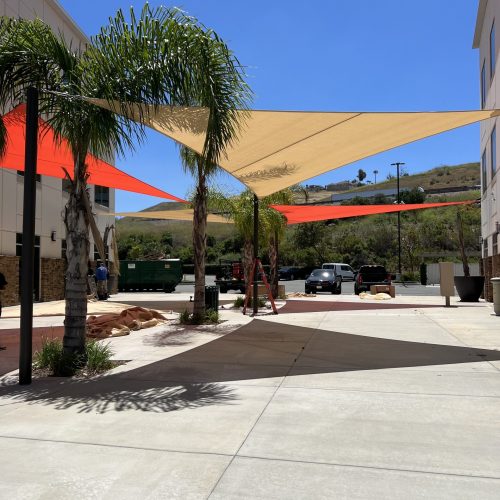 Our Resistant Sunbrella Sun Sails Make Your Investment Worth
Sunbrella Sun Sails are highly resistant to the sun, moisture, and extreme temperature changes. This material is waterproof and rot-resistant, which allows you to enjoy your outdoor space all year round.
We Design Perfect Sail Shades for Every Homeowner
Our top-of-the-line fabrics and styles are designed to meet any need or occasion. Choose your favorite color, or have us custom-make a sail shade for you! It's never been easier to get the perfect sail shades for you and your home.
Durable Quality Awning Fabrics
You Deserve An Awning That Will Last
Durable Sunbrella fibers are saturated to the core with color and UV stabilized pigments, ensuring our fabrics won't fade or become damaged due to the sun's harsh rays or normal wear. Sunbrella fabrics, unlike ordinary fabrics, are solution-dyed with rich colors that stay brilliant over time, no matter the environment.
Sunbrella fabrics are engineered with built-in stain moisture resistance. With a protective finish that won't wash away, even after daily use, Sunbrella fabrics stand up to life's toughest messes.
Engineered to maintain their integrity, Sunbrella fabrics are easy to clean. When life happens, blot spills with a clean, dry cloth and use mild soap and warm water to remove them.
High-Quality Awnings & Great Warranties
Whether you are looking for a new patio awning, retractable awning, or storefront awning, Exclusive Awnings can meet your needs. We are one of the leading fabricators and installers of commercial and residential retractable and fixed Awnings in Southern California.
CONTACT US TODAY TO SEE HOW WE CAN HELP!
FREE AWNING CONSULTATION!