Patio Shade - Guaranteed Satisfaction
---
If you're looking to add a shaded area to your patio or outdoor living space, you should look into purchasing a Patio Shade. These structures are easy to maintain and clean. They will also add a ton of prestige to your home and improve its appearance.
Our patio sun shade is a great solution to protect from the heat of the sun. We can customize it to fit your needs and budget. No matter what you need. We can make it happen.
Patio Shading Solutions
Purchasing our patio shading solutions provides you with many benefits that you will enjoy for a long time. Plus, we also offer installation services.
Create the Perfect Patio Shading Environment for Your Home
Patio Shading does more than block the sun during the day. It can add elegance and style to your outdoor living space by drawing the eye upwards. Our exclusive patio shading is perfect for entertaining on your porch or patio, shading patios during the hot summer months, or keeping your home cool through the night.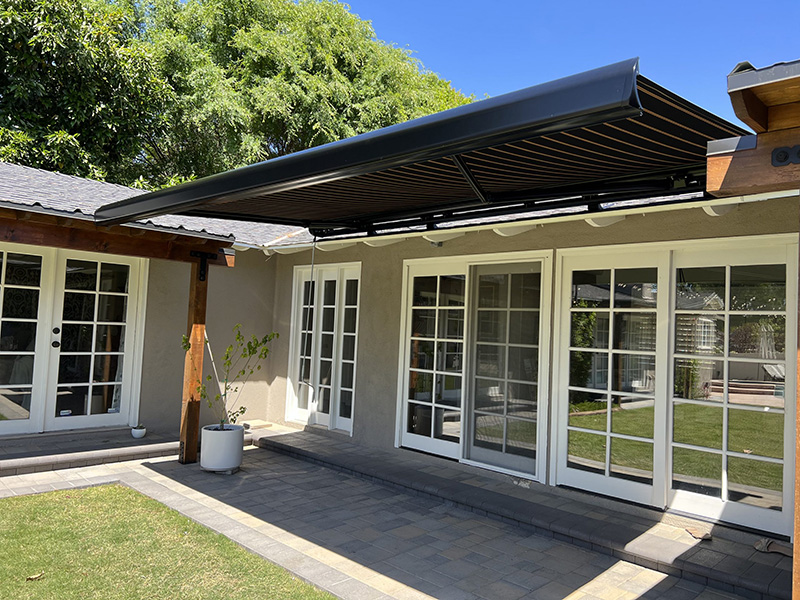 Our Patio Shade Has the Perfect Features to Protect Your Outdoors
Give your patio, deck, or garden the fresh air and instant sun retreat you deserve with a patio shade. Our premium awnings are UV and moisture-resistant, providing shade from the sun. They come in multiple colors and patterns to please your decorating tastes.
Customize Your Patio Sun Shade to fit Your Needs
Our exclusive patio sun shade provides the ultimate privacy, style, & protection. Whatever you need it for, it will exceed your expectations.
Durable Quality Awning Fabrics
You Deserve An Awning That Will Last
Durable Sunbrella fibers are saturated to the core with color and UV stabilized pigments, ensuring our fabrics won't fade or become damaged due to the sun's harsh rays or normal wear. Sunbrella fabrics, unlike ordinary fabrics, are solution-dyed with rich colors that stay brilliant over time no matter the environment.
Sunbrella fabrics are engineered with built-in stain moisture resistance. With a protective finish that won't wash away, even after daily use, Sunbrella fabrics stand up to life's toughest messes.
Engineered to maintain their integrity, Sunbrella fabrics are easy to clean. When life happens, blot spills with a clean, dry cloth and use mild soap and warm water to remove.
High-Quality Awnings & Great Warranties
Whether you are looking for a new patio awning, retractable awning, or storefront awning, Exclusive Awnings can meet your needs. We are one of the leading fabricators and installers of commercial and residential retractable and fixed Awnings in Southern California.
CONTACT US TODAY TO SEE HOW WE CAN HELP!
FREE AWNING CONSULTATION!