Manual Retractable Patio Awning
Manual Retractable Patio Awnings - Spend Your Time Outdoors
---
Looking for a way to beat the heat? A manual retractable patio awning is your answer! These awnings are made of high-quality fabrics and precision components, so they're durable and long-lasting. Our manual retractable awnings are also available in fabric and acrylic options that are fire-resistant, mildew resistant, fade and dirt resistant, impermeable, easy to clean, come in various colors and styles, and include the best warranty. All our prices are unbeatable because we offer professional installation at no extra charge.
Come to Exclusive Awnings to Get the Best Manual Retractable Awnings
We have the perfect manual retractable awnings with professional manufacturers, a variety of materials, and a wide range of styles. We can customize any design to fit your needs.
Want to Enjoy the Commodities of a Retractable Awning?
Rainy days are no more a concern. You can spend time outside in the fresh air with a premium retractable patio awning. Enjoy your favorite foods and drinks without worrying about rain ruining the mood. Make your backyard more pleasant with an exclusive retractable patio awning.
Let Our Retractable Standard Patio Awning Cover Your Needs
Infinite possibilities, infinite shade. Allowing you to enjoy the outdoors no matter what the weather throws at you, our retractable standard patio awnings make all of your outdoor needs possible. Inspired by simplicity and function, our best-in-class design will have your patio looking beautiful.
Durable Quality Awning Fabrics
You Deserve An Awning That Will Last
Durable Sunbrella fibers are saturated to the core with color and UV stabilized pigments, ensuring our fabrics won't fade or become damaged due to the sun's harsh rays or normal wear. Sunbrella fabrics, unlike ordinary fabrics, are solution-dyed with rich colors that stay brilliant over time, no matter the environment.
Sunbrella fabrics are engineered with built-in stain moisture resistance. With a protective finish that won't wash away, even after daily use, Sunbrella fabrics stand up to life's toughest messes.
Engineered to maintain their integrity, Sunbrella fabrics are easy to clean. When life happens, blot spills with a clean, dry cloth and use mild soap and warm water to remove them.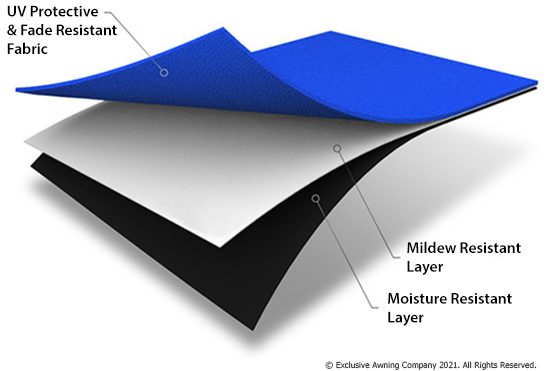 Why a Retractable Patio Awning?
A retractable patio awning allows you to improve your patio and provide shade in the summer. We use the latest innovative technology to create a durable, easy-to-use, and beautiful manual retractable patio awning for your home.
A retractable patio awning is a great way to enhance the look of your outdoor space. It provides a fresh new addition to your home. Our retractable patio awnings are available in various sizes and styles customized according to your needs and preferences.
You'll be able to enjoy your backyard with the convenience and functionality of our products.
A Retractable Patio Awning Has many Advantages
Want to create your perfect patio setting? Invite the outdoors in with a patio awning. It has a distinctive, eye-catching design and contemporary materials with sustainable solutions. The construction allows it to withstand strong winds, rain, and more!
The uses of a patio awning are many, but here are some of the most popular ones:
● It adds shade and protection from the sun.
● It provides an outdoor living space.
● It adds curb appeal to your property.
● It creates a private space for your family or guests.
High-Quality Awnings & Great Warranties
Whether you are looking for a new patio awning, retractable awning, or storefront awning, Exclusive Awnings can meet your needs. We are one of the leading fabricators and installers of commercial and residential retractable and fixed Awnings in Southern California.
CONTACT US TODAY TO SEE HOW WE CAN HELP!
FREE AWNING CONSULTATION!