Complete Full-Service Awning Company
---
Exclusive Awnings offers a wide variety of awning services to meet your needs. We specialize in awnings for homes and businesses and offer the latest styles guaranteed to fit any home or commercial building.
You can rest assured that we can design, fabricate or repair your next awnings and bring your awnings back to life. All of our products and services are made with high-quality materials that are guaranteed to last.
Custom-designed residential and commercial awnings
No-obligation free custom-fit awning estimate
Different styles of awnings, including canopy, awnings, sail shades, window awnings, patio awnings, patio shading, and more
Best materials and craftsmanship
Affordable products without compromising quality
Expert Awning Installers
Outstanding service after the sale
The best warranty
Exclusive Awnings service is the best option to keep your outdoor space looking beautiful and functional. We specialize in a wide range of awning types, materials, and installation, and we will work with you to choose the best type of awning for your needs. Check out our Gallery for examples, and feel free to contact us for more information.
Awnings Near Me
If you are looking for awnings near me, you just found the answer. Exclusive Awnings is here to provide all the cities in Southern California and its surroundings with the best service in the market. Our company is proud to offer you Durable Sunbrella fibers, high-quality window awning, and outstanding warranties. We are a licensed and insured company with a fantastic reputation waiting to help you cover your property no matter the environment. Our products are strong and made with high precision, so you don't have to worry about anything because they will stand still in any season.
Awning Fabrication
With our in-house awning engineering & fabrication, you can bet every installation is customized and fully guaranteed.
Retractable Recovers
Before you replace a retractable awning just because the fabric is old and faded, consider the possibility of recovering it.
Fixed Recovers
If your fixed awning metal frame is still in good condition, then there is a good chance we should be able to recover it.
Slide Wire Recovers
If your slide-on-wire awning needs new fabric, we can help. We'll make a pattern from your frame, and recover it with your choice.
Cabana Recovers
Recovered cabanas are usually indistinguishable from new ones, so check with us for a quote and save a ton of money.
Shade Sail Recovers
Our shade sail structure recovers are built to last. Utilizing mesh fabrics that offer long-lasting UV protection & strength.
Drop Shade Recovers
If the shade tube still functions properly, you don't need to buy a new one; we can replace the old fabric and make it look new.
Canopy Recovers
No matter what type of home or commercial canopy you have, we can carry out whatever is required to give it new life again.
Awning Printing
Designed to withstand weather conditions, awning graphics can be customized to display your logo, custom images & more.
Awning Installation Near Me
Exclusive Awnings offers the best awning installation near me in the southern California area, and we are ready to fit your needs and offer you the best installation service in the industry. You will be glad you hired us to do the job!
Canopy Near Me
Are you looking for a Canopy near me in Southern California? If you do, then Exclusive Awnings is the right fit for you. We only care about providing you with the best Canopy Services in the area. Our 12 years of experience made us experts in the field, and we guarantee you will love our work!
Awning Companies Near Me
We are one of the best Awning Companies Near Me in Southern California. We provide outstanding products and services no matter your needs or specifications. Contact us today!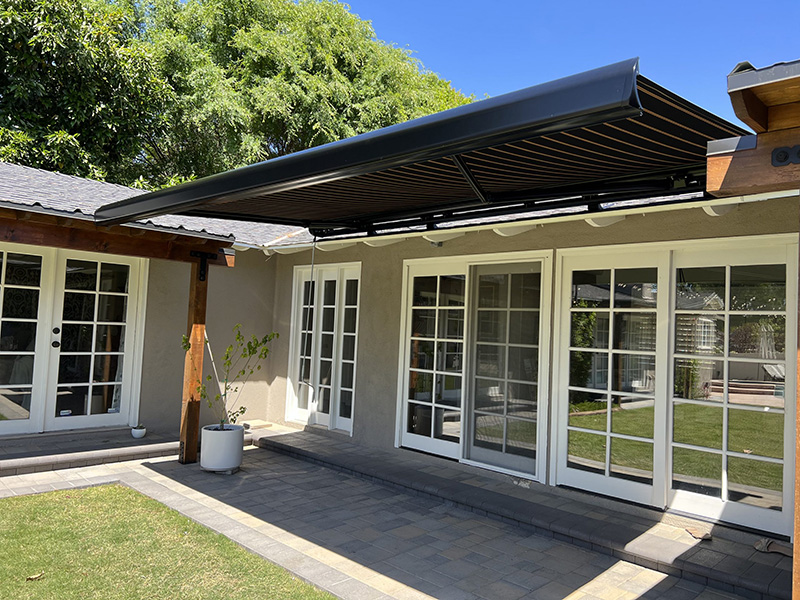 Awning For Patio
When you think about Awning for patio, you should know that they are more than just a tool to protect your property from the sun's UV rays. It is something you will want to have to give your patio a beautiful and modern design that will help your house or your property stand out.
Exclusive Awnings offers the best awnings for patios in Southern California. Select from our wide range of styles, designs, and colors.
Porch Awnings Near Me
A porch awning is an attractive and efficient way to protect and complement your porch. Exclusive Awnings fabricates the best porch awnings near me on the market.
Awnings Service Near Me
Our awning service near me allows you to order a custom-made awning to fit your needs and property. We can also help you with recovery and fix services.
Canopy Installers Near Me
Exclusive Awnings has experienced canopy installers near me, working with different types of structures, so you don't have to worry about anything.
Retractable Awning Installers Near Me
Our retractable awning installers work in all types of commercial buildings and residential properties. We have the best installers in the industry for your retractable awnings needs.
We Are One of the Best Awning Companies Near Me
Exclusive Awnings has worked hard to become one of the most professional awning companies near me. You can purchase awnings, either fixed or mobile, and all of them will provide you with an impressive beautiful appearance to your home.
High-Quality Awnings & Great Warranties
Whether you are looking for a new patio awning, retractable awning, or storefront awning, Exclusive Awnings can meet your needs. We are one of the leading fabricators and installers of commercial and residential retractable and fixed Awnings in Southern California.
CONTACT US TODAY TO SEE HOW WE CAN HELP!
FREE AWNING CONSULTATION!